Structure & Timelines
New Executives are elected in the March meeting, and take office on August 1st  unless the outgoing Executive is graduating in the spring (and then they take over following their graduation). If you are UNSURE who the current executive team is, please reach out to gpssexec@iastate.edu at any time.
This allows for a long transition/shadowing period for the incoming officers, as a measure to ensure institutional memory remains. 
Current Executive Council (AY2021-2022)
President: Chelsea Iennarella-Servantez
Chelsea Iennarella-Servantez is a concurrent DVM/PhD student at the College of Veterinary Medicine co-majoring in Biomedical Sciences (Cell Biology) and Animal Science (Animal Nutrition). She graduated from Iowa State with both her BS and MS in Animal Science (Animal Nutrition) in 2014 and 2017, respectively. Chelsea's PhD research focuses on the pathophysiology of diet-induced gastrointestinal and systemic inflammation and associated changes at both the cellular and clinical level. Chelsea served as a GPSS Senator for the College of Veterinary Medicine (Professional Curriculum) prior to starting her role as GPSS Senate Engagement Officer, and now President. In her free time, Chelsea enjoys hobbies including taekwondo, kayaking, painting, and bird-watching, in addition to spending time with her husband, Jeremy, and their two dogs, Dex and Virgil.  
She can be reached at: gpsspresident@iastate.edu
Vice President: Rachel Sorensen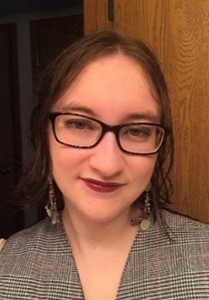 Rachel Sorensen is a graduate student in the Toxicology Program. She graduated from Trevecca Nazarene University with BS in Biology and Intercultural Studies in 2017. Rachel's research focuses on the potential toxicity of dietary exposure of microplastics and nanoplastics. Rachel served as a GPSS senator for Toxicology prior to becoming Vice President. She has also served in numerous leadership positions across campus and the City of Ames.
She can be reached at: gpssvicepres@iastate.edu
Treasurer: Zakayo Kazibwe

My name is Zakayo (Zach) Kazibwe, born and raised on a farm in Uganda, the pearl of Africa.
After graduating with a B.Sc. in Forestry from Makerere University, Uganda, I was admitted into
the Applied Bioscience (Plant Breeding focus) master's program at Konkuk University, Seoul
South Korea. Following my desire for molecular plant improvement, I applied and got admitted
into the Iowa State University's (ISU) Interdepartmental Genetics and Genomics program. In Dr.
Diane Bassham's lab, I am studying molecular mechanisms of ribosome/rRNA degradation in
relation to autophagy in Arabidopsis. My career goal is to be an effective global leader in plant
breeding innovations to increase food production by developing crops that yield better with
reduced external inputs. Currently, I am the treasurer for Graduate and Professional Student
Senate of ISU, serve as the Early Career Representative on the international committee of the
American Society of Plant Biologists (ASPB), and the Graduate Student Representative on the
Diversity, Equity and Inclusion Committee of Genetics, Development and Cell Biology
department at ISU. As the saying goes, "all work without play makes Jack (read Zach) a dull
boy", I enjoy playing guitar and dancing to my tunes to break away from my research desk
momentarily. I also like trying out new recipes (cooking) from different parts of the world.
Lastly, I am a proud father of 3 and spending time with them, together with my wife is priceless
and I enjoy it.
He can be reached at: gpsstreasurer@iastate.edu
Senate Information Officer:
OPEN POSITION
Senate Engagement Officer: Carrie Ann Johnson
Carrie Ann Johnson (she/her) is a doctoral candidate in Rhetoric and Professional Communication at Iowa State University. Johnson holds a bachelor's in Journalism and a master's in American Studies, both from Utah State. She currently serves as a research assistant at the Catt Center for Women in Politics and in Speech Communication. She is also the Editorial Assistant for Journalism and Mass Communication Quarterly and serves as the Senate Engagement Officer for the Graduate and Professional Student Senate. Her research interests include organizational communication, informal networks, journalism and mass media, gender studies, videogame rhetoric and ludology, and social justice.
She can be reached at: gpssseo@iastate.edu
Conference Officer:  Kevin Chiteri

Kevin Chiteri is a 3rd year Ph.D. student with Dr. Arti Singh in the Mungbean breeding lab, Department of Agronomy. He has a BS in Microbiology & Biotechnology from the University of Nairobi, Kenya,  an MS in Biological Sciences from Bowling Green State University, Bowling Green, Ohio, and currently, a Ph.D. in Genetics & Genomics with Predictive Plant Phenomics (P3). His research is focused on the improvement of mungbeans (green grams) for their high plant protein composition. At Iowa State University, Kevin has served as the treasurer to the P3 Graduate Student Organization, Speaker Chair for the RF Baker Plant Breeding Symposium, president of G3 (Genetics & Genomics Group), Agronomy Senator and currently serving as the GPSS Conference Officer.  Kevin is enthusiastic about public science, science communication, and the accessibility of research to a wider audience. When you catch him, ask about swimming and talk politics, please.
Have a question about the GPSS Conference, reach out gpssconfchair@iastate.edu
Wellness Officer: Abigail Boyd
Abbey Boyd is a PhD Candidate in Food Science and Technology. She graduated from Northwestern University in Evanston, IL with a B.A. in Biological Sciences and a minor in Spanish, and was also a member of the Women's Softball team. Her research focuses on in vitro models of human digestion for the preliminary analysis of foods and bioactive compounds. Abbey served as the Food Science and Human Nutrition Senator and a member of the Wellness Committee prior to taking the Wellness Officer role. In her free time, Abbey enjoys cooking and baking, long stress walks, yoga, and watching bad TV with her cat, Bentley.
She can be reached at: gpsswellness@iastate.edu
GPSS Advisors
The entire Executive Council can be reached at gpssexec@iastate.edu
The entire Senate can be reached at gpss20-21@iastate.edu
Memos from the Executive Council
Executive memos are statement/opinion/position pieces released from the Executive team of the GPSS. These memos reflect the views and ideas of the Executive members who sign the document, and do not pass through the Legislative branch (the Senate). 
(AY2020-2021, President E. Field)
Black Lives Matter Solidarity statement
Response to Student Government's Women's Week Controversy